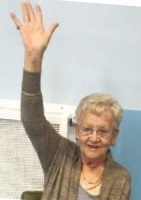 Isobel completed our Staying Steady Programme
During her initial assessment, it was highlighted that Isobel's shoulder flexibility was severely limited due to a previous injury.  This prevented her from doing many day-to-day tasks and for the past 20 years she had been unable to play bowls, which she previously enjoyed.  It was also highlighted that she walked with a kyphotic posture and, when using her walker, she would lean onto the frame to take the strain off her legs.
Our postural stability instructor recommended a home exercise programme to Isobel which included carrying out daily shoulder mobilisers and tricep stretches to improve shoulder mobility.  The instructor also spent time with Isobel practicing mobilising with her walker, encouraging her to walk tall using a heel-toe motion and then encouraging to rest when she needed to (as opposed to resting on the bars while walking).
Isobel used this advice well and stuck to her programme.  She is now walking taller and does not have to sit down as often.  She has also been carrying out her shoulder exercises and can now reach the back of her neck.  After six weeks, Isobel started back at a local bowls classes after a twenty-year break!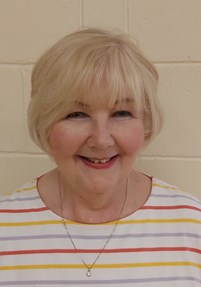 Karen attends five of our groups each week
Karen recently retired from a full-time career as an accountant.  When she retired, many of her friends were still working or looking after their grandchildren.  This meant Karen's social network was limited during the day.  She realised she needed to be more proactive about getting out and meeting new people, so she searched for activities for retirees and found our website, from which she requested a copy of our activities guide.
Karen chose to start attending dancercise at our Deckham base, a step which she found to be a liberating and friendly experience.
"The main thing was I just brought myself.  Some people came with their friends but it felt quite liberating coming by myself!"
After a couple of weeks, another dancercise participant invited Karen to join The Cosy Crow Singers group.  Karen was initially hesitant, but she gave it a go and has since joined a number of other groups through recommendations and encouragement from other attendees.
"When I started the singing group, another lady suggested I join the Tai Chi class which meets just before the singing group, so I did that. 
And then the ladies who go to dancercise asked me to go to the ukulele group.  I said, 'Oh no, I'm into nothing like that.  I can't play the ukulele!'  They said, 'Oh, howay, just come and give it a go!', and ukulele has turned out to be my favourite now because they're just so nice.  I've never played anything in my life but the tutor is just so professional and he's got those two lovely helpers and they are so patient."
As well as attending activities at our Deckham base, Karen found out about other classes in her local area via our mailing list updates.  She now attends Zumba Gold at Eighton Banks.  The class started as a 10-week free taster funded by Gateshead Older People's Assembly and is now an independent, sustainable weekly session in the community. 
Since finding out about Gateshead Older People's Assembly, Karen now attends five classes over three days each week.
"Dancercise was about the fitness.  It keeps your mind active because you have to remember what you're supposed to be doing!  I think coming along has also built my confidence up.  I feel more confident now just doing these things on my own instead of having to wait on other people."
Karen is a fantastic example of the social benefits of group activity and of the friendly welcome that people will receive at the Assembly.  She is a valued member of the groups she attends.
"I just really enjoy it . . . and I won the hamper at Christmas!"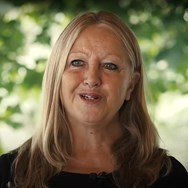 Alma attends several of our Zoom wellness classes
"I probably wouldn't have gone to face-to-face classes because it was too much of a faff.  It would be two buses for me and I don't drive anymore because I have macular degeneration.
I was doing a paid-for yoga class and sadly it was just a little bit out of my level.  I hurt myself.  And I thought, 'Well, this is no good.  I'm paying to do a class and actually it's just really too hard for me because people don't know you've got osteoporosis or this, that, and the other.'  That's why I like the fact that your classes ask you to fill in health questionnaires first.  I found Rose's yoga class much more to my ability.
I spoke to my GP about this constant feeling in my throat.  I felt like I was choking, like someone had stuck a golf ball down and the GP said it was stress.  She asked me to let her know how I was after I started Rose's yoga class and I was happy to report to my GP that the feeling is gone.  Completely gone!
There's a warmth from when you log into Zoom and either Rose or Lola will say hello and ask how everyone is doing.  That's quite a nice feeling.  Someone there saying, "Come on then, let's get started."  It adds an element of connection.  It's immensely helpful."