It is more important than ever before that older people maintain their physical health.  We've seen some fantastic exercise programmes online (and are offering some ourselves!), but nearly one-third of over 65s do not have access to the Internet, which means they cannot take part in those classes.  From June 2020, we teamed up with Tyne & Wear Local TV to offer daily evidence-based exercise classes which were accessible to everyone with a television.  
Keeping Well at Home aired on Freeview, Sky, and Virgin Media through November 2020. The programme aired seven times each day and every episode featured a new round of exercises. 
Each episode of Keeping Well at Home lasts approximately four minutes.  During that time, instructors Emma and Richie explain and demonstrate exercises you can do throughout the day.
All of the episodes are available on our YouTube page.
Who are the instructors?
Keeping Well at Home features two instructors -- Emma McGlen and Richie Paxton.  Both are familiar faces around Gateshead and they have over three decades of combined experience in the health and fitness arena.  Emma and Richie are both fully qualified Level 4 Postural Stability Instructors.
Emma worked as an Occupational Therapy Technical Instructor for over 15 years and is now the director of Move to Improve, which offers a variety of fitness classes for over 50s in Gateshead.  Emma also owns a pilates and yoga studio in Whickham.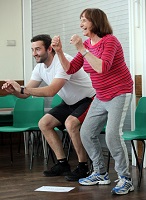 Richie previously worked for the local authority as an Exercise Referral Instructor.  He now runs The LIFE Programme, a community interest company offering wellness classes for older people in Gateshead and Sunderland.  
Do I need special equipment to take part?  What if I haven't exercised in a while?
Emma and Richie will show you exercises which can be done in the comfort of your own home and you can do things at your own pace.  There is no need to purchase any equipment.  We do recommend that you have access to a sturdy chair for seated exercises and for support if you are unsure of your balance. 
Please wear comfortable clothing and appropriate footwear when you exercise.  It's also a good idea to keep a cool drink close by.
As with any fitness regimen, it is important that you speak to a health professional before taking part. 
What is Gateshead Older People's Assembly?
Gateshead Older People's Assembly is a charity.  We deliver and support activities designed to help over 50s in our borough maintain their health and independence.  Last year, we supported opportunities for older people to exercise, socialise, and learn in 18 of Gateshead's 22 wards and attendances at Assembly-supported classes totalled 28,411. We also publish an activities guide especially for older people in Gateshead (and will resume publication once everyone's activities are back up and running).
Your support helps to ensure we can continue to deliver projects like Keeping Well at Home.