Our outdoor classes are suspended until early 2021.  In the meantime, our classes will be delivered via Zoom and will remain free for all over 50s in Gateshead.  For information on how to reserve your place, please visit our Zoom classes page. 
What types of classes will be on offer?
We're offering five types of classes:
Strength & Balance with Emma McGlen
Tai Chi with Dave Robinson
Keep Fit, Strong, & Steady with Richie Paxton
Dancercise with Nicola Bruce (Thurs) and Emma McGlen (Mon & Wed)
Walking Football with Gary and Andre Bennett
Where will the classes be held?
The classes will be held in in the garden space behind our wellness hub at 178 Split Crow Road, Deckham, NE8 3UB.  
Who can join in?
Any Gateshead resident aged 50+ is eligible to attend.
Do I need to reserve a place?
Yes.  Booking is essential as spaces will be limited due to social distancing guidelines.  Please see the poster (above) for the instructors' contact details.  
What steps are being taken re: social distancing?
We are following all Government guidelines to safeguard the wellbeing of all participants. 
Class sizes will be limited to ensure everyone is able to maintain a minimum social distance of 2 metres. 
Upon arrival, participants will be asked to join a socially-distanced queue.
Hand sanitiser will be provided and must be used by all participants as they enter or exit the exercise area.
A water cooler will be available.  Antibacterial hand gel must be used before touching the water cooler and only wide-mouthed sports bottles will be permitted to be refilled.  The water cooler will be disinfected regularly throughout the day.  We do request that participants arrive with a filled water bottle to minimise the number of people using the water cooler. 
An accessible toilet will be available.  It will be disinfected regularly throughout the day.  Antibacterial hand soap and paper towels will be provided.
Anyone wishing to enter the building to use the toilet or water cooler will be required to wear a mask.  Masks will be supplied for those who do not bring their own. 
All automatic doors will be set to open.  There will be no need for anyone to touch any doors as they make their way to the toilet or water cooler.   
All participants will be required to scan the QR code upon arrival or will be asked to provide contact details.  These will be retained by the instructor for 21 days.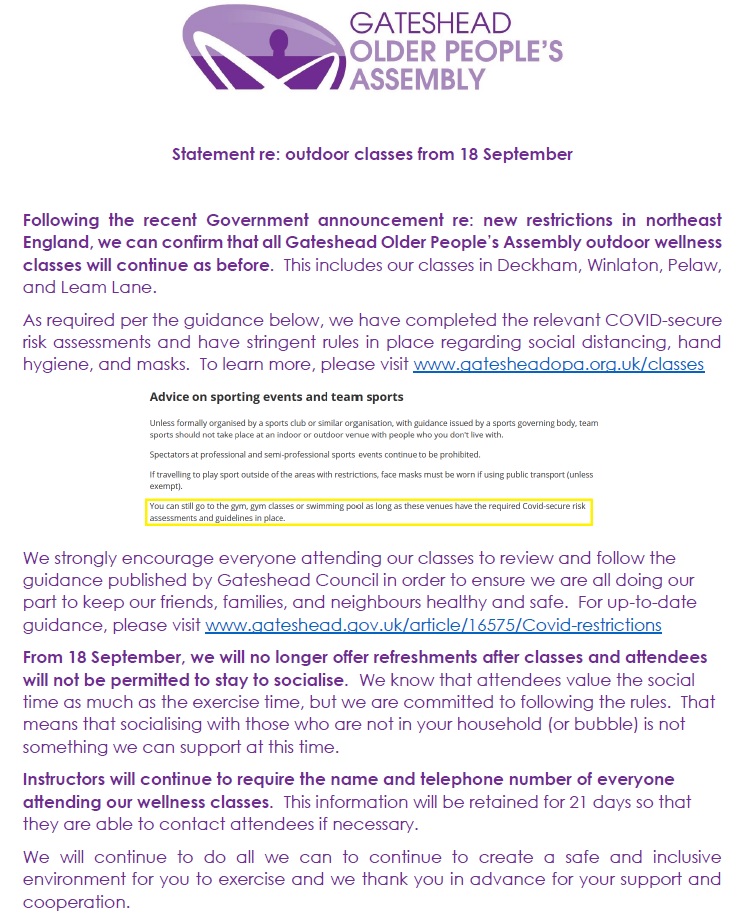 What should I bring with me?  What should I wear?
Please bring a filled water bottle.  Ensure you wear comfortable clothing and exercise-appropriate footwear.  Please try to limit the number of personal belongings you bring with you as there is no dedicated storage area available in the garden.
Do I need my GP's permission to exercise?
We always recommend that participants speak to a health professional before taking part in any new exercise regimen.  If you have been shielding or have a long-term health condition, this is especially important.
All participants will be asked to complete a PAR-Q (Physical Activity Readiness Questionnaire) the first time they attend a class.  This is a short form used by the instructor to help determine your safety to participate in a new exercise regimen. 
What is Gateshead Older People's Assembly?
Gateshead Older People's Assembly is a charity.  We deliver and support activities designed to help over 50s in our borough maintain their health and independence.  Last year, we supported opportunities for older people to exercise, socialise, and learn in 18 of Gateshead's 22 wards and attendances at Assembly-supported classes totalled 28,411. We also publish an activities guide especially for older people in Gateshead (and will resume publication once everyone's activities are back up and running).
Your support helps to ensure we can continue to deliver social and wellness activities to older people in our borough.